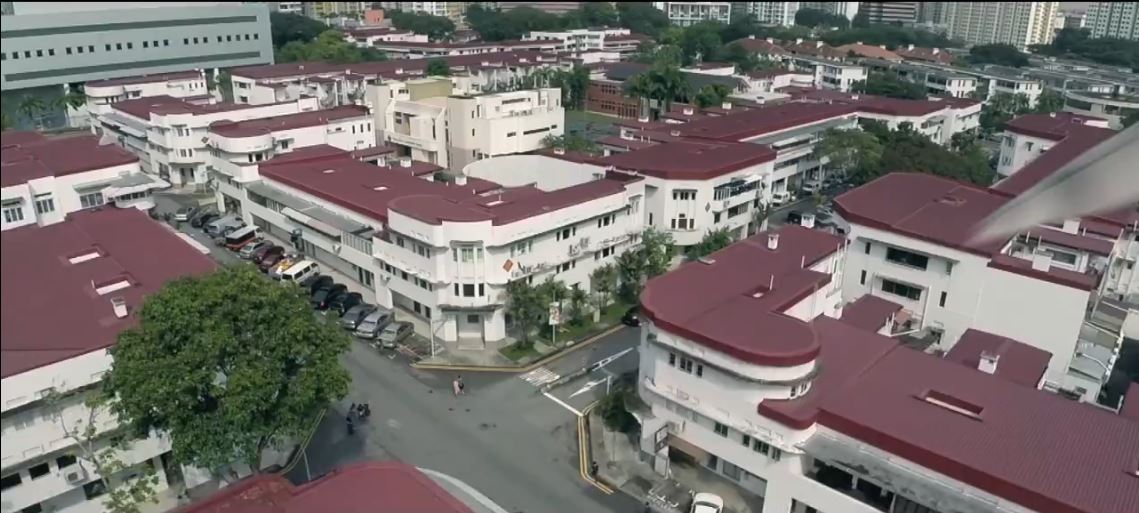 brief Intro…
Tiong Bahru Estate
Singapore's Oldest & Most Charming neighbourhood


Built in the 1930s, Tiong Bahru Estate* is one of the oldest housing estates in Singapore. It was the first project undertaken by the Singapore Improvement Trust (SIT), a government body administered by the British colonial authority, to provide for mass public housing in Singapore. The estate consists of about 30 apartment blocks with a total of over 900 units. The apartment blocks are made up of two to five-storey flats and the units are assorted three to five-room apartments.
The construction style of the estate is a mix of art deco and local Straits settlement shop-house architecture. The flats feature rounded balconies, flat rooftops, spiral staircases, light wells and underground storage and shelters. One notable feature of Tiong Bahru estate is that all its streets are named after Chinese pioneers of the 19th and early 20th centuries (Lim Liak, Kim Pong, Guan Chuan, Chay Yan etc.).
It is apparent that a lot of effort was put into designing the estate with a series of flats that are visually aesthetic. Thus the flats in Tiong Bahru estate contrasted markedly with those of the much later post-war mass housing programs undertaken by SIT's successor, the Housing and Development Board. In contrast with the aesthetic art deco theme of the Tiong Bahru flats, the flats built by the Housing Board in the 1950s and 1960s are starkly utilitarian in appearance and design; where flats are almost identical in their two-dimensional "matchbox" style.
Not many people can afford to live in Tiong Bahru Estate during the pre-World War 2 years. It was the choice place of living for the upper income class and also the place where the rich and powerful kept their mistresses. For this reason, the estate used to be known as "Mei Ren Wuo" ("den of beauties" in Chinese).
The population in Tiong Bahru estate tripled after the Second World War, and it gradually loses its exalted status as an exclusive upper class housing estate.
However, it retains its close-knit Kampung (small village in Malay) spirit and became a bustling and lively little town where everyone knows and looks out for each other.
Tiong Bahru was once renowned for its bird-singing aviaries. Bird lovers gather with their songbirds every morning to catch up with fellow bird lovers over coffee and tea amid the crisp, melodious chirps of Prinias, Robins, and Shrikes. Tiong Bahru is also very famous for the quality and range of the local food fare.
In particular, Tiong Bahru market boasts some of the best hawker stalls in Singapore that tops the country's eatery charts regularly. It is not uncommon for people living in other parts of Singapore to come all the way to Tiong Bahru to enjoy a simple meal of BBQ pork rice, stir-fried prawn noodles, and other local culinary delights. In a city-state abound with food courts, hawker centers and other eateries, this bears testament to the delectability and popularity of the food in Tiong Bahru.
Lately, Tiong Bahru has been going through a renewal of sorts. Young people have been flocking to this estate ever since HDB relaxed the rules which prohibit singles from buying small flats near the city.  These new residents loves neighbourhoods with heritage and history.  Nevermind they sit amongst AH Peks at some old corner coffeeshop slurping kopi-o from saucers while indulging in idle chat.. Or living amongst Aunties who roll their market trolleys by, avoiding the dripping water from clothes on the tek-koh (bamboo pole) hung above. To these young people, it is called character. And it's one reason why this quaint neighbourhood estate now has a High "HIP" quotient.

Make your next move the best move with ME…
My years of experience as a real estate professional in TIONG BAHRU assure you excellent service – exceeding all your expectations.

You need someone you can rely on and trust. I promise to keep you informed of every aspect of your transaction. Many of my customers have become my friends and referred other friends – now that's trust.

If you are thinking about buying or selling your property within the TIONG BAHRU ESTATE, call someone who is familiar and passionate about this neighbourhood -  ME!
Tiong Bahru Estate is made up of the following street names : Tiong Bahru Road, Seng Poh Road, Tiong Poh Road, Eng Hoon Street, Eng Watt Street, Guan Chuan Street, Chay Yan Street, Yong Siak Street, Moh Guan Terrace, Kim Cheng Street, Kim Pong Road, Lim Liak Street, Eu Chin Street, Keng Kiat Street, Peng Nguan Street
These are the general description for Tiong Bahru Flats : Tiong Bahru Walk Up Apartment, Tiong Bahru Pre War Flats, Tiong Bahru Retro Flats,Tiong Bahru Conserved Apartments, Tiong Bahru Conservation Flats, Tiong Bahru Art Deco Flats, 1950′s Tiong Bahru Flat, 1950′s Tiong Bahru SIT Flat, 1936 Tiong Bahru Flat, Tiong Bahru Estate, Lim Yew Hock Flats